We like our Mike!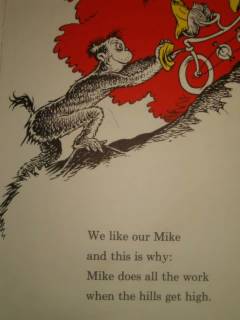 Our Mike!

The fun never stops in Canberra.
Not content with a thorough drubbing last weekend, this weekend we have to front up at the Downer shops to vote again, this time for the ACT Legislative Assembly.
The ACT elections – which I have never voted in before, as I was a student when I first lived here and it wasn't much point moving my Labor vote from a dead safe Hunter seat to a dead safe Canberra seat – are what Kath and Kim might call "
different" and "unusual"
.
For a start, there are three electorates, one of which elects seven candidates, and the other two of elect five candidates. The ballot papers list the names within each group randomly, which is a bugger if you can't hand out how-to-votes at the polling stations.
Gloomy, pal of the marvellous
Psephites
, has already extolled the virtues of one of our novelty candidates, Kurt Kennedy, who is big on fruit trees, living near your parents and palindromic music.
If you are, like me, a dyed in the wool Labor voter (who may have strayed briefly to the Greens but I was in my twenties then goddamit, and you can't hold that against me*) you don't have the pleasure of being able to make the HTV person's day with a cheerful greeting and meaningful eye contact. And what's more, you have to put the Labor candidates 1-7 in YOUR OWN ORDER!
Far be it from me to mock the democratic form chosen by my fellow citizens, so I have been considering this carefully. My initial plan was to put all the chicks first, but it has developed somewhat. I'm afraid it's Andrew Barr last. He committed the sin of putting a Year 10 Class photo from Lyneham High with a circle around his head to prove he's a local.
I sat down tonight with all my pamphlets and found true political love. My new number 1 candidate is
Mike Hettinger
. We LOVE Mike here, I tell ya. LOVE HIM. This is why:
His pamphlet (which, trickily, is GREEN! On recycled paper!) talks about a smarter, greener Canberra. What first caught my eye was his objective to "Support lifelong learning for all". Then he wants to "Promote Canberra's Space Industry" – talk about quirky; I didn't know we had a space industry outside the Downer Planet-arium (
think South Park
) after the fire burnt down Mt Stromlo and all, but what a great attitude!
But what really did it for me is the final fold over. I realise that my punctuation became a little adolescent in the last paragraph, but that's infatuation for you. I promise that all the punctuation below is dead set original:
"A Bit About Mike …
· Mike migrated to Canberra from the US 12 years ago
· Mike came here for true love!
· Mike lived in Ainslie and Hackett before settling in O'Connor, where he is paying off his house.
· Mike actually is a Rocket Scientist!
· Mike received a medal from the US Air Force for saving the lives of two Soviet divers.
· Mike was educated at Holy Cross College by Jesuit Monks!
· Mike is a DEST workplace delegate for the CPSU.
· Mike is a member of the Australian Conservation Foundation!
And you should see the website. He's a
decorated peace loving war veteran
and all.
Well, that's it, I'm smitten. If I can't have a Jesuit educated Soviet saving peace loving war veteran rocket scientist romantic as my representative in Parliament, I don't want anyone.
* And while I may have strayed briefly at the ballot box, I never took Kerry Nettle to the school formal, did I? Not like my husbang. I promise I will get the photo of her bronze ruched dress from his mum and post it.